Free shipping (CZE & SVK)
Delivery within 24 hours (CZE & SVK)
Indoor Rower Concept2 RowErg – Standard Height
Concept2 RowErg is the best indoor rower on the global market.
It will indeed meet all your expectations for full-fledged training where you will practice up to 80 % of all muscle groups, the heart, lungs and circulatory system. By training on a Concept2 RowErg you can significantly reduce your body weight by burning fat.
Concept2 RowErg indoor rower requires very little maintenance. High-quality nickel-plated chain ensures a long durability. The metal parts are backed by 5-year limited warranty. Company Ultraining s.r.o., the only authorized dealer of Concept2 products in Slovakia, also translated menu into Slovak language.
Unlike other aerobic fitness machines, it is suitable for home and professional use for all ages.
Concept2 RowErg with Standard Height Offers the Following:
performance monitor PM5 with menu in English, Slovak and many other languages
top solution minimizes noise and provides a pleasant feeling of rowing on the water
comfortable, ergonomic handle features a 10 degree bend that allows you to row with a natural arm and hand position
elaborate framelock mechanism allows for easy separation of the machine into two pieces for transport and storage
aluminium monorail with stainless steel surfaces allows for easy movement of the seat and perfect footwork at the stroke and full-body workout
adjustable footrests enable quick and easy sizing
the spiral damper allows you to easily adjust the airflow to the flywheel, so you can change the feel of the stroke to suit your preference – smooth rowing, fast boat or heavy boat
caster wheels on the front foot make indoor rower mobile
Indoor Rower Use
Natural rowing motion offers the best workout because you exercise all the major muscle groups, the heart, lungs and circulatory system. Regular rowing on indoor rower also helps to burn fat and reduce body weight.
Indoor rower uses air resistance, so that training intensity is determined exclusively by the power of your stroke. Therefore, it is suitable for everyone regardless of age or level of fitness and unlike most machines in fitness center is also suitable for home use. Indoor rower is used as a training machine for different kinds of sports. 
Performance Monitor PM5
Concept2 RowErg is equipped with a monitor PM5, so every time you row, you obtain accurate, comparable data. The results are displayed as time, meters, pace for the 500 meters, watts or calories. When using a heart rate belt to measure your heart rate, the monitor PM5 displays your instant heart rate. Backlit graphic display provides different types of viewing your workout. The results can be saved on your monitor or on any USB flash drive. You can adjust the height and angle of the monitor to provide a better view.
Flywheel and Damper Setting
Concept2 RowErg rowing machines use air resistance and this creates unlimited possibilities for setting the load during exercise. Using the damper setting, you can quickly adjust how much air will flow into the flywheel. The resistance of the machine is directly proportional to the strength that you use for the machine – the more force you use, the more substantial is the training. The flywheel design minimizes noise while maximizing a smooth feel.
Seat Height 
Concept2 RowErg with standard height have seat positioned at a height of 35.6 cm. 
Solid Construction That Is Easy to Maintain
Ergonomic design and material used ensures durability of machines by Concept2 brand for more than 15 years, even at their maximum daily capacity utilization in professional fitness centers with minimal maintenance.
Adjustable Footrests and Ergonomic Handle
All Concept2 RowErg rowing machines have adjustable footrests for quick setup and adjustment to any foot size. Comfortable ergonomic handle has a 10 degree bend that allows you to row with a natural arm and hand position.
Nickel Plated Chain and Chain Guard
Nickel-plated steel is more resistant to corrosion and easier to maintain. Fully enclosed chain guard helps to keep the chain clean.
Stainless Steel Tape
The aluminium monorail has a stainless steel tape to ensure smooth movement of the seat.
Relocation and Storage
Concept2 RowErg has a sophisticated locking mechanism that allows easy separation of parts of the frame during transport and storage. Caster wheels on the front foot allow you to roll the fully-assembled machine into position.
| | |
| --- | --- |
| Overall Length: | 96 in (244 cm) |
| Width: | 24 in (61 cm) |
| Machine Weight: | 57 lb (26 kg) |
| Seat Height: | 14 in (36 cm) |
| Monorail Length: | 54 in (137 cm) |
| Chain or Cord: | nickel-plated steel chain |
| Monitor: | PM5 |
| Monitor Power Requirement: | two D cell batteries (during workout, the monitor draws power from the spinning flywheel to extend battery life) |
| Maximum User Weight: | 500 lb (227 kg) |
| Construction: | aluminum front legs, steel rear legs |
| Monitor Arm: | ABS plastic. Pivots for storage and to adjust monitor height. Monitor angle can also be adjusted. |
| Finish: | powder coat |
| Colour: | black |
| Storage: | can be separated into two parts for easy storage |
| Space Requirements – Assembled: | 8 ft x 2 ft (244 cm x 61 cm) |
| Space Requirements – With Clearance for Use: | 9 ft x 4 ft (274 cm x 122 cm) |
| Space Requirements – For Storage: | 25 in x 33 in x 54 in (63.5 cm x 83.8 cm x 137.2 cm) |
| Shipping Weight: | 70 lb (32 kg) |
| Shipping Dimensions: | 15 in x 21.5 in x 56 in (38 cm x 55 cm x 142 cm) – one box |

Concept2 RowErg Floor Mat

Garmin Chest Belt HRM-Dual 010-12883-00

TheCrewStop Rowing Gloves



Slide for Concept2 RowErg – Pair
Free shipping (CZE & SVK)
Delivery within 24 hours (CZE & SVK)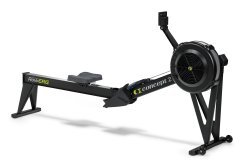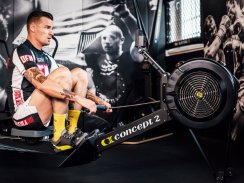 In stock