Concept2 SkiErg – Mounted on Floor Stand
Concept2 SkiErg is a revolutionary device that will provide you with excellent ski training throughout the year. 
Concept2 SkiErg:
is equipped with PM5 monitor which provides huge amount of training data
strengthens and builds upper body, trunk and legs in a way typical for skiing
provides a quality aerobic workout
building a ski-specific upper body strength, trunk and legs
ensures quality training
supports the effective technique of cross-country skiing, it can be used for both double pole and classic alternating arm technique
is ideal for interval training and clearly has the potential to make you a faster skier
SkiErg works similarly as the rowing machines made by Concept2 on the principle of flywheel air resistance: the faster you pull, the more resistance you feel. You feel smooth pull and fast recovery.
Mounted on Floor Stand version of SkiErg includes the floor stand with its anti-skid deck and caster wheels, so you can easily move it and train anywhere you like.
The metal parts are backed by 5-year limited warranty. Company Ultraining s.r.o., the only authorized dealer of Concept2 products in Slovakia, also translated menu into Slovak language.
Performance Monitor PM5
This model of SkiErg is equipped with a latest PM5 monitor so every time you ski, you obtain accurate, comparable data. The results are displayed as time, meters, pace for the 500 meters, watts or calories and you can view them in one of the following displays: all data, force curve, bar chart, large print.
The backlit graphic display provides different types of viewing your workout. The results can be saved in the monitor memory or on any USB flash drive. You can adjust the height and angle of the monitor to provide a better view. PM5 Monitor uses ANT+ and Bluetooth Smart (not Bluetooth) wireless monitoring of heart rate. To use this feature, you will need a chest belt, which operates on the basis of one of the two transmission technologies.
PM5 monitor works with two D-cell batteries. During the workout the monitor recharges when the flywheel spins and thus it prolongs battery life.
Flywheel and Damper Setting
Concept2 SkiErg uses air resistance and this creates unlimited possibilities for setting the load during exercise. Using the damper setting, you can quickly adjust how much air will flow into the flywheel. The Resistance of the machine is directly proportional to the strength that you use for the machine - the more force you use, the more substantial is the training. The flywheel design minimizes noise while maximizing a smooth feel.
Handles
The SkiErg's ergonomic, strapless handles provide for a comfortable, secure grip and comfortable skiing.
Solid Construction That Is Easy to Maintain
Ergonomic design and material used ensures durability of machines for more than 15 years, even at their maximum daily capacity utilization in professional fitness centers with minimal maintenance.
| | |
| --- | --- |
| Monitor: | PM5 |
| Colour: | black |
| Shipping Weight: | 46 kg |
| Assembled Dimensions: | 60 x 127 x 216 cm |
| Floor stand weight: | 16 kg |
| Machine weight: | 21 kg |
| Machine shipping dimensions: | 54 x 49 x 125 cm |
| Floor stand shipping dimensions: | 13 x 66 x 135 cm |

Garmin Chest Belt HRM-Dual 010-12883-00
Free shipping (CZE & SVK)
Delivery within 24 hours (CZE & SVK)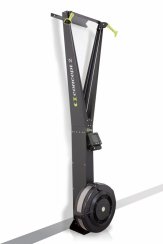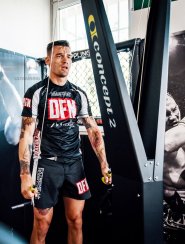 In stock